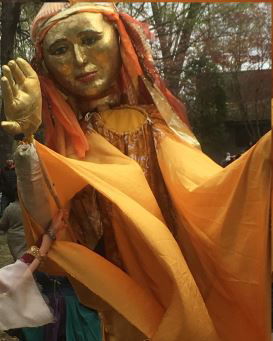 It's been too long that I haven't updated this blog, so apologies to our devoted followers. I spent most of my pandemic furlough in graduate school and writing a book, Relighting the Cauldron: Nature Spirituality for the Modern World. It is an urgent plea for Earth-based, spiritually-minded people to become active agents of the paradigm shift away from the destructive, patriarchal, materialistic lifestyle we are witnessing collapse. I discuss how healing our bodies, minds and spirits using the technology and modalities of indigenous and nature-based spiritual practices can help us all become mindful doulas re-birthing our planet consciously together. I will keep you all posted as to publication.
Soul Blossom Center will be hosting a Zoom and in-person Beltane Circle on Sunday, May 2, 2021, from 4:00 – 6:00 pm EST. The first part of our afternoon, we will be discussing the ancient fertility and fire festival of Beltane and it's application and meaning for our lives today, and for most of the second hour, we will enjoy a sound bath healing with Hudson Valley practitioner, Jennifer Muir-Braunstein. Jennifer is a Tibetan Tones Sound practitioner, contemplative care-giver, and keeper of sacred space. Jennifer has dedicated much of her practice to helping those who struggle with mental health and substance abuse issues. More recently she has embarked on a path of working with death and dying as an end-of-life chaplain. Jennifer utilizes the healing vibrations of medical/spa grade Tibetan bowls and other instruments both on and off the body. She works with groups and individuals to create space so that each client may access their body's innate healing wisdom. Through both training and her own lived experience of healing, Jennifer brings her gifts of empathy and intuition to provide a unique healing treatment.
At Soul Blossom Center, we celebrate the eight holidays of the Pagan calendar and Beltane, marking the beginning of the high season of summer, is one of our favorites. We have been enjoying the return of the green to the plants and trees on our land, the resounding bird song and animal presence, and building our gardens. The holiday circle is open to all, with love offering donations kindly accepted. Our group also has a monthly Wiccan Training Program which will begin again in early 2022, so please inbox us if you are interested and seek more information. Guests can join online on Zoom or in-person, provided they are willing to comply with COVID-19 safety precautions, social distancing outside. We ask any who attend in person to bring a snack to share.
We hope to see you!